I was eleven years old when I saw Nafisa Ali, then all of eighteen years old, play the part of Ruth Labadoor in Shyam Benegal's 1978 art-house classic Junoon–Ruth is a young Englishwoman, living on an English military cantonment in colonial India with her family. As the Indian Mutiny of 1857 breaks out, Ruth's family is attacked in the church by rebels; her mother, grandmother, and her find shelter, first with a loyalist to the English, and then later, with a Pathan obsessed with Ruth, who wants  to marry her and make her his wife. He does not succeed; Ruth's fate is cleverly tied to the fate of the Mutiny by her mother; when the Mutiny fails, so do Javed Khan's 'claims' on Ruth. But Ruth has–despite her early fear of the 'mad Pathan'–fallen in love with the man who has pursued her and confessed to his obsessions; in the movie's final scene at a church where Ruth and her mother are hiding, and where Javed has come to find them, as Javed prepares to ride off into battle to face the rampaging and revengeful English troops, Ruth rushes out to see Javed despite her mother's disapproval, and blurts out a single word, "Javed!" Their eyes meet; their hearts have too. Then fade to black, as the movie's epigraph informs us that Javed died in battle while Ruth died fifty-five years later in London. Unwed.
Nafisa Ali in Junoon: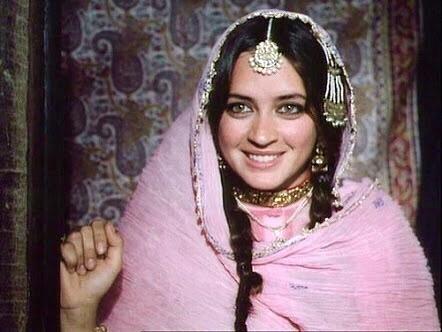 I walked out of the theater that night, heartsick and crushed. I had fallen in love with Nafisa Ali. Madly, heartbreakingly so. It was the crush to end all crushes. Over the next few months, I wondered if even the fictional Javed Khan's obsession could rival mine. Nafisa was drop-dead gorgeous; she was stunningly beautiful, a sportswoman, India's national swimming champion, a long-legged beauty who had found her way into an art-house movie. She was only seven years older than me, a fact that somehow made her more 'real'; she could have been that girl in the twelfth grade that I had a crush on–and I had had a few desperate ones already.
Junoon's final scene completed the legend of Ruth Labadoor; I had come to believe that such a girl had actually existed, that she had actually been love-lorn, and had indeed, died alone, of a broken heart, pining over a love that could not dare speak its name. That magical blending of reality and artifice, whereby I had come to believe a fictional character had walked the earth was complete, made so by my adolescent pining for a beautiful young woman; on screen, she was vulnerable, heartachingly so, and I longed to comfort her, to reach out and hold her hand, and tell her it was going to be OK. And ask her out for a movie, of course.
I went looking for Nafisa; I found her in the odd magazine or two, but nowhere else. She made one movie, and then little else; she faded from public life, and then, stunningly she was married, to an older man, an Army officer. All was ashes. My crush faded, like all crushes do. But I never forgot the phenomenology of that heartache she induced in me.
PS: Nafisa went on to act in a few movies, but never made a career in Bollywood; she is now a social activist in India. She is still stunningly beautiful: